Sergeant

Posts: 15
Joined: Sat Jun 16, 2018 12:49 pm
I've noticed over the last few months during games of RAAS and AAS the defensive caps have either been left undefended for long periods of time or if the caps are manned, they are quickly overrun by a flanking force. This is due to most squad leaders wanting to be offensive and moving where the action is (which is obviously more fun) or due to a squad leader being tasked with defence last second and having to form an ad-hoc line of defence. Unfortunately, due to these reasons it's very unlikely you will see more than one squad defending an objective unless all attacking FOB's have been destroyed. If you are put in the unfavourable position of having to defend with just one squad, I have made a Wottactic map that outlines some basic tactics and could help. Maybe it would be possible to organise a training session focused on defensive tactics sometime
https://wottactic.eu/squad2?room=swCCJfE71DYqBF
The map used is Kokan (Marketplace) but the basic ideas can be used on practically any map or cap (terrain being a factor of course)
A few side notes:
These tactics are designed to stop an attack from one direction while delaying any flanking team if you are being attacked by multiple squads then you should call in armour support or reinforcements.
Worst case scenario there will not be a defensive FOB in which case the rally should be placed away from the cap in an area least likely to be attacked (depending on the cap)
All squad members are weapons free meaning they should open fire on the enemy as soon as they see them in order to slow them down until the QRF arrives.
Its my first time posting something like this, and it isn't meant to criticise experienced squad leaders who have their own way of doing things. Hopefully it helps out squad leaders/members who aren't comfortable in defence yet. Any feedback is welcome.
---
Warrant Officer 2

Posts: 201
Joined: Sun Feb 19, 2017 1:19 pm
Looking good mate!
Take this up to one of the AI's and feel free to come up with ideas on how we can put this into practice as a platoon. It's always good to have some "default" scenarios where each members knows what his/hers job is
when the last tree is cut down, the last fish eaten, and the last stream poisoned, you will realize that you can't eat money
---
Second Lieutenant

Posts: 309
Joined: Wed Jul 06, 2016 4:50 pm
Just to let you know i know of about 6 other place's not marked i can get in from and not be detected the those troops positions
---
Private

Posts: 6
Joined: Fri Apr 14, 2017 9:05 am
---
Staff Sergeant

Posts: 28
Joined: Sat Oct 01, 2016 11:20 am
Well done Viking. appreciated
---
Private

Posts: 19
Joined: Sun Aug 13, 2017 5:12 pm
I like the simplicity of it Ashby, if I may be so bold, I had a thought to expand upon it.
If we take said 9-man squad with a 360 defence, the enemy at worst case will attack over a 270 degree arc. The presumption being that the final quadrant will be easily mashed by being between the Squad and a QRF. There will always be a critique of people saying that one person can sneak in hither and yon but I don't think that can be factored in too heavily.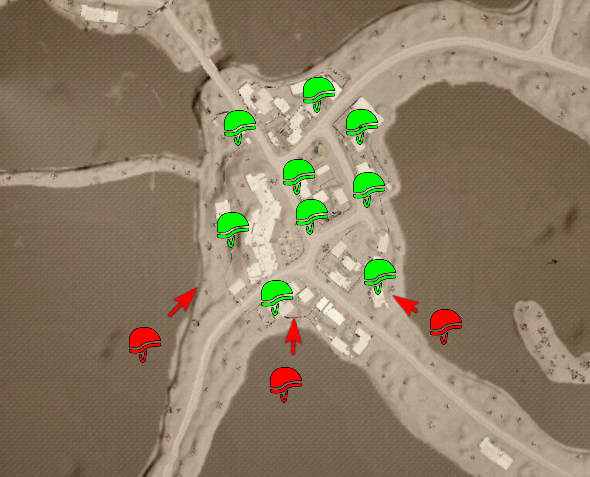 In which case, the squad should then manoeuvre to defend in force, as such;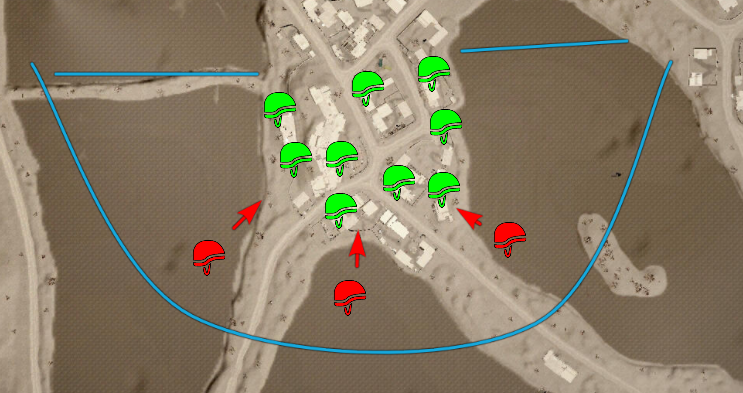 The rear most men and the full-back have some responsibility to ensure the rear-gate is closed;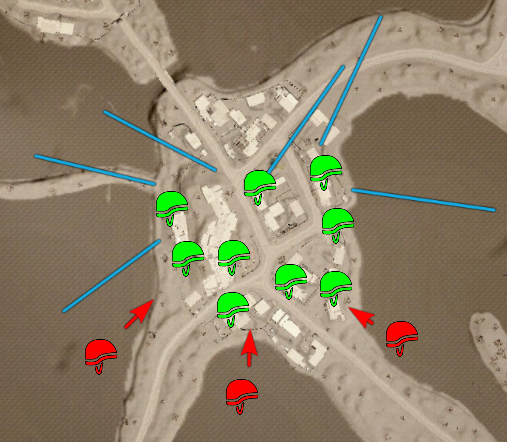 It may seem a little hard-to-train, but if people learn the maps and positions which are defensible, it becomes a matter of maintaining your arcs. If the enemy does make a hard push around a flank, the in-place people become the fulcrum that the squad pivots around.
I've taken this from when I played ARMA milsim quite heavily, that's generally how we would look to respond in PvP. I'm not the best Squad player but the principles should be the same.
I hope you don't mind me saying, I'm curious of thoughts as opposed to critiquing you.
---
Private

Posts: 7
Joined: Mon May 13, 2019 1:56 pm
I like the 360 covering, but I think a buddysystem would make the tactic better. Yes, if we see the enemies come from the south, we could reposition to get a better cover from the south. But if the enemies manage to sneak close before we spot them, it would be to easy to be overrun after they take out the one person covering that angle. I'm not talking about a single enemie, that situation we can't fully rule out. A buddy system would make the holding of the angle stronger. I think both tacticts have pros/cons, therfore;

It would be best to have both tacticts learned. A full spread if we see a pattern throught the match in witch we manage to easily spot the enemies. And a buddy system, where two and two of us stick quite close, in those situations where the overview are bad, and when we have had experiance of beeing overrun from sneacky squads.
---
Second Lieutenant

Posts: 309
Joined: Wed Jul 06, 2016 4:50 pm
360 def is all good but it's only good if you can see everything but you can't cause the flat map you put down doesn't take into account the terrain and on all sides you can hop on you team mates to get in . best defensive is to stay active and patrol always scouting. even better if you can keep them of the cap and bloke there way before they are near the cap zone
---
Sergeant

Posts: 15
Joined: Sat Jun 16, 2018 12:49 pm
Thanks for the feedback! This was just a general defensive layout that can be thrown together quickly if needed . It isn't designed specifically for this cap on Kokan as more than likely you will have a friendly squad attacking tempest or ruins so you wont need to prioritize watching either the north or south west depending on what side you are on and assuming friendly squads aren't blind and let an enemy squad walk past them.
The problem I've found with defending, is the entire squad ends up pushing towards contact and it turns out to be one or two enemies and suddenly the HAB is over run on the cap behind you and it turns into a scramble to take control again.
This offers 3 lines of defence 1 is the initial spotter 2 is the QRF and 3 if the QRF is killed the rest of the squad converges on that position. it just gives the squad leader time to assess the danger and make a judgement if it is a full squad attacking or just a few stragglers causing a distraction.
---
Corporal

Posts: 14
Joined: Mon Oct 08, 2018 4:51 pm
Something additional to consider.
If you post, lets say 4 x pickets each covering a 90deg arc, well outwith the defensive zone with good cover and watching inwards towards the defensive zone, you can have early warning of troops attacking.
Their role initially would be only to report and not engage the enemy and allow the enemy to think they have been undetected.
If, sufficient warning is given it would allow you to amass what defences you have to resist an attack as you know the direction the threat is coming from and basically turn the tables on the enemy.
In the real world each picket position would be manned with at least 2 men, however, in Squad 1 player would be sufficient, a total of 4.
---
Clan Leader

Posts: 827
Joined: Mon Jan 28, 2008 6:05 pm
"360" / "Four corners" is the first rule of defence, sense/awareness/360 FOV.. any attack is diminished in its potential when the enemy are spotted. As on the flip side an attacking force wants to get as close as they can without being spotted.
A 360 must remain strong...at least one on guard or post when another flank kicks off as there may be 8 attackers hitting one flank, if all defenders rush then they leave flanks open. When quiet assigning patrols is also useful.
The attackers will always find the gap or take the path of least resistance...(
https://en.wikipedia.org/wiki/Defeat_in_detail
)
Great post mate
---