BabylonCome
Over the past 12 months I have bought (and thrown away) quite a few sets of headphones, mainly because I know live in a flat and I can't have my desktop speakers blasting out like I use to and also because being a qualified sound engineer, I like a quality sound going off in my ears. So listed below are the cans I have bought and what I think of them.
Please feel free to add you own reviews of headsets you have owned...
Roccat - Kulo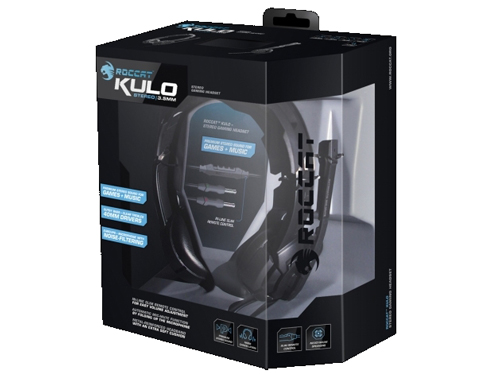 The first dedicated gaming headset I got about a year ago, they are a semi full headphone meaning they don't fully cover your ears, so they sit on them not over them. They came with 2 types of sponges, one being a felt type and the other a fake leather type, I preferred the felt type as it was "warmer" to the touch. As with nearly all gaming headsets, they have a single wire coming down from the left ear and a movable microphone on the same ear. There is the usual volume and mute controls about 30mm down the lead from the ear piece and in this case, it is quite small and easy to use and doesn't get in the way.
However, the first set I got from the shop the left and right stereo was reversed which is really annoying playing a FPS game as you hear shots in your right ear, so spin right but actually the enemy was to your left and now shoots you in the back. So I took them back to the shop and exchanged them for the same model and the 2nd set was correctly stereo placed.
Overall sound quality is very good, plenty of bass but can be a little too warm and the mid and top response was not too intense. Feedback from others on TS was that the mic sounded ok but nothing special and from my own perspective, I couldn't hear myself breathing which is always a bonus.
But about 4 months after getting them, while playing a game, suddenly the microphone just stopped working. At first I thought everybody was ignoring me as my TS light was illuminating but I was getting no response from anybody. I couldn't be bothered to get a 3rd set, so in the bin they went.
Price = £56
Stereo = 2.0
Connection = jack
Comfort = 6/10
Sound Quality = 6/10
Mic Quality = 6/10
Build quality = 4/10
Microsoft - LiveChat LX3000
After throwing the Kulo's away, I rushed out and just grabbed these, mainly because they were cheap but also from the low end ones, they were the only ones in the shop with a wide headband which would suit my TrackIR. However, within minutes of plugging them in I started to regret my decision. The sound quality from the speakers were utter crap, no bass what so ever and the mid and tops just sounded squashed and muffled almost like talking to someone on an old analogue phone. I am amazed I had these for nearly 6 months before ditching them and started to use my desktop speakers again but just turned down.
The only thing I liked about them was because they were USB and not jack, I could set it up so that TS came through the headset while the game sound came out of my speakers. This was great while playing Grid and Arma as I could actually hear people in TS while playing games with the volume down. However, they have 1 really frigging annoying feature which was the main reason for getting ride of them. The volume and mute controls are in the usual place, about 30cm's down the lead but they were frigging massive and the mute button kept getting hit by my elbow and without any warning, my TS was muted and I would be ranting away with nobody to hear me.
Price = £17
Stereo = 2.0
Connection = USB
Comfort = 5/10
Sound Quality = 1/10
Mic Quality = 4/10
Build Quality = 5/10
Sennheiser - RS 120 II
I got these for my main stereo rather than my PC as they have no microphone. Being cordless I thought it would be really nice to sit there and listen to music without an annoying lead between me and the source. I could also just get up and walk around as they have a massive 50m range. Being Sennheiser, you would imaging and you would be right, they are very comfortable to wear, but you would also imaging they would be a very high quality sound reproduction, but on this one you would not be right or at least not in my ear drums. I was bitterly disappointed in how poor the sound quality of them is, not enough bass and the mid is too piercing. Another annoying factor is that they use standard FM radio frequency, which means I spent about 20mins playing with the tuning settings to get rid of this annoying his in the background and never really totally got rid of it, which is very annoying when listening to quiet non-heavy music.
I feature I do like though is the charging system. They come with a wire frame stand which is also the charger, you just place the headset on the stand and that's it, they are charging. However, they do take about 24 hours to fully recharge but the batteries do last about 5 hours, so that isn't too bad except there is no means of plugging in a charger to have longer playback if you wish.
Price = £99
Stereo - 2.0
Connection = jack on base, headset is cordless
Comfort = 9/10
Sound Quality = 7/10
Mic Quality = N/A
Build Quality = 9/10
Corsair - Vengeance 1500
The next gaming cans I got were these, mainly because I wanted to try out surround sound headphones to see what it was like. When I first plugged them in and after nearly being defend because by frig they were loud, I realised I was only getting standard stereo. I soon realised I needed to go to the Corsair website and download and install the surround drivers for them. Stupid idiot I hear you cry, well in my defence there was no information what so every in or on the packaging about needing to download software for these to work. Anyway, I soon had the surround sound functions working in either 5.1 or 7.1 but to be honest, I hated the surround sound on them as it just sounded like those cheap surround amps you get that mimic surround by delaying the normal sound and then throwing it out the other speakers. With that said, the sound quality was very good, plenty of bass and good mid and tops and I actually started to hear instruments in music I haven't heard before.
I did however have 1 major issue with these, when on the desktop or listening to music, the stereo placement was totally correct, but when in a game, 80% of the time the stereo placement was reversed. So left was right and so fourth. I say 80% of the time as some times it would be correct. I removed the drivers and re-installed them, contacted their customer support (who were very good) but nothing I tried would resolve this issue. I installed them on my laptop and they were 100% correct all of the time, so something locally on my main rig was causing issues with the driver.
I find it very annoying to play games with the stereo reversed and didn't really like the mimic surround on them, so a weak later, they have been confined to my laptop, otherwise these are really nice good quality headphones.
Price = £65
Stereo = 7.1
Connection = USB
Comfort = 8/10
Sound Quality = 8/10
Mic Quality = 9/10
Build Quality = 9/10
Roccat - Kave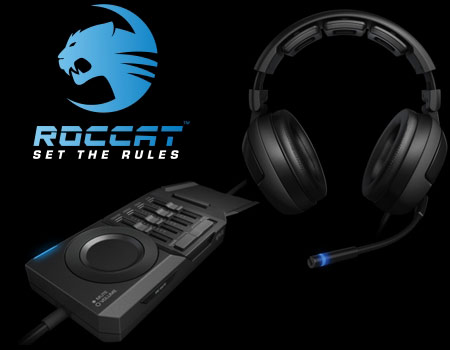 Despite the first Roccat headphones basically being of very poor build quality and myself saying I would never buy another of their products, I found myself getting their Kave's. Only because they were about the last choice in the shop for me to try out. They are surround sound again but this time having 6 actual speakers and also being jacked and not USB connection. So I got them home, plugged in the 4 x jack plugs and it needs USB for power (as they are amplified), they also come with a desktop control box which not only allows you to control the master volume but also each point of the surround (centre, side, rear and bass) which means no annoying mute button by my elbow. No drivers were required as it uses the sound cards surround features and because it has 5 different speakers in the actual headset, they don't sound like a mimic system with delay but actually do sound like surround sound, it actually works - while playing Grid you can hear other cars around you and know where they are, including on other parts of the track and not just the cars near you. However, having 5 speakers rammed into the fully closed earpiece means that the actual speakers them selves are very small, meaning the bass reproduction is not what I like. It's not bad, just not good enough. But overall the sound quality is good, but being amplified analogue signal direct from the sound card, they do have an annoying his in the background, which you don't hear while playing games but can hear when just chatting on TS. The build quality on these are much higher than the Kulo's but I guess only time with tell on that one.
Price = £70
Stereo = 5.1
Connection = jack
Comfort = 7/10
Sound Quality = 6/10
Mic Quality = 8/10
Build Quality = 7/10
That's it - until the Kave cave in (sorry), I'm sticking with them. I do have a £300 set of Sony Professional cans in my studio but they are very specialist and have some serious sound reproduction to them, so I'm not going into them at detail here.
I hope this helps a little if you thinking of getting a new set and of course please let me know what you think of your headphones...
Clan Leader

Posts: 1002
Joined: Mon Jan 28, 2008 6:05 pm
Logitech-G35
My set died recently but whilst they worked they were very good for my needs, the sound quality was good enough for music and good for gaming, the surround sound worked lovely in my opinion. I am not a sound expert but felt these were the best set I have owned.
The microphone is rigid and self mutes when raised, it has programmable functions for different Audio set-ups.
The build quality was good and did the job but with wear and tear cracks developed on the plastic plates that held the cups onto the unit. Plastic is not the best material to use when strain is concerned as it turns brittle after time.
They are comfortable and easily adjusted to suit various head shapes and sizes.
They plug and play but you can download a program that allows for adjusting volumes and voice morphing.
Value for money is not that good in my opinion as for half the price you can get the same features and build quality from other manufacturers.
I liked these a lot, RIP. I now own/use the corsair set reviewed by Bab's above.
Price = £119 (Logitech price)
Stereo = 7.1
Connection = USB
Comfort = 8/10
Sound Quality = 8/10
Mic Quality = 8/10
Build quality = 6/10
BabylonCome
**bump**

Please add your reviews here..
Major

Posts: 1156
Joined: Fri May 13, 2016 3:14 pm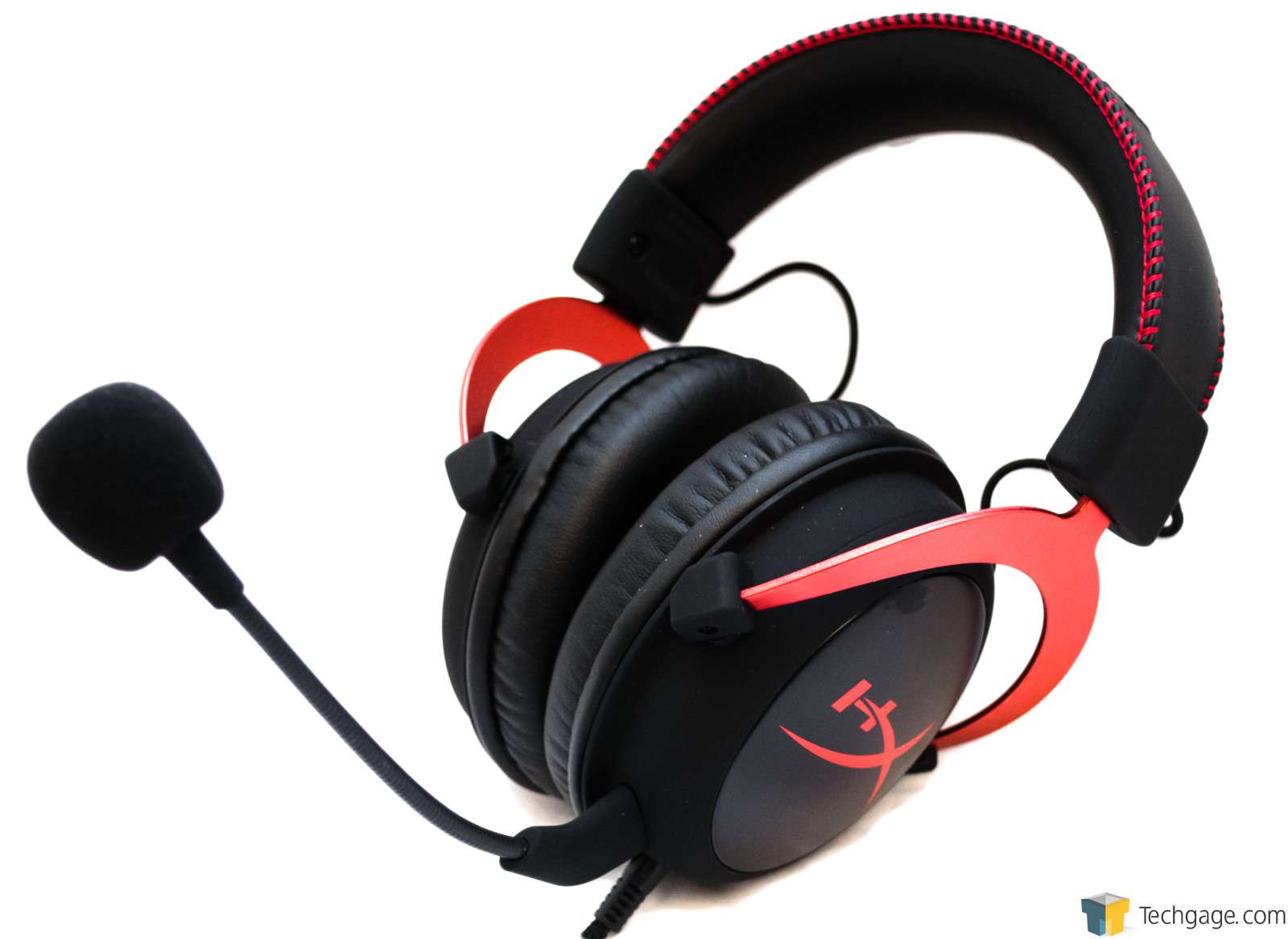 Light
comfortable
excellent stereo/7.1 surround sound
excellent mic (is detatchable)
Aluminum frame
Interchangeable ear cups (vinyl and velour)
Durable (1yr 3 mo. so far with abuse and still going strong)
PC, Xbox one, PS4 Wii U, Mac and mobile compatible
£74.98 on Amazon UK
$93.99 Best Buy US
★Initial Training Group CO★
Warrant Officer 1

Posts: 102
Joined: Sun Nov 13, 2016 1:42 pm
I've had 2 of virtually the same headset, the g930 and the g430.
Since wintskis review is very accurate I will only tell about my experience with it.
I got the the 930 many years ago. When that finally gave in it was 4 years old and the battery wouldn't charge any more.
Then I got the 430 which has lasted me for another 4 years and still working and being used by my gf.
On the 930 the mic broke off when I dropped it on the floor whilst I was making food (it's wireless why not), fixed that with duct tape
On the 430 the left ear broke off, fixed that by taking parts from the 930.
The g430 is pretty much exactly the same as the g35 but half the price, so the price value is totally worth it..
Posts: 44
Joined: Mon Dec 19, 2016 7:13 pm
These I have had and used for over 10 years now, and they have never failed me:
Sennheiser HD 555
Alright, they're not cordless nor do they have a microphone. I have not needed either at any time so that has not bothered me.
The sound however, is epic. Crystal clear treble and a deep solid bass. I'm no expert in sound, just giving my opinion.
You wear them for 5 minutes and then you forget you're even wearing them. Best headphones I ever bought.
- PARohT
Warrant Officer 1

Posts: 131
Joined: Sun Mar 26, 2017 4:26 pm
Astro A40TR
Price = £218.47
Stereo = 7.1
Connection = Jack headset into usb mixamp
Comfort = 10/10
Sound Quality = 9/10
Mic Quality = 7/10
Build Quality = 9/10
Had a few Razer headsets that I thought were good but they just don't come near to these babies. I know they are expensive but IMO they are well worth it if gaming is your main hobby. The sound is great whether for music, movies or gaming. The mixamp is sexy and very easy to use and it comes with software that allows you to go real deep with tweaking frequencies (you can isolate footsteps and increase them, which is nice). It's the most comfortable headset I have owned to the point I forget I'm wearing it. It's customisable with extra headbands and ear plates (also leatherlike ear cups) and you are able to unplug the mic and put it on whichever side feels better. I heard from others that the mic cuts off but this is a setting you can change (it's basically the point it picks up your voice the default is a little low). It also has side tone which plays your voice back to you when you talk so you can hear yourself and don't end up shouting, which comes in handy when AEJarl makes you drive through a city and everybody and their dog fire RPG's at you.
Mucho loves
Bowie x
Tldr: Expensive but a great headset if gaming is your main hobby
zdn
Just a tip if you like good sound:
1. Avoid buying "Gaming Headsets"
2. Get a desk mic or a aftermarket mic like Antlion mod mic.
3. Buy normal headphones (Audeze, Ultrasone, Audio Technica, Hifiman, Beyerdynamic, Grado, AKG, Sennheiser etc.)
4. Choose closed ear build form and if you can afford buy electrostatic ones.
5. Buy a good headphone amplifier that can support 600Ohm Headphones ( i have SB ZxR but im sure there are better ones)
6. There are no 7.1 Headsets. The 7.1 sound gets emulated by the headphones software in most of the cases.
General rule is: The bigger the diameter of the headphone drivers are the better the sound.
____________________________________________
Having the Audio Technica ATH-AG1:
I cut off the mic from this high end headset since it was bad and bothering me while eating.
The 42mm Drivers deliver a really good sound (4/5)
Comfort (5/5)
Build quality (1/5)
After using them for over one year the right side stopped playing. I dissembled the whole headset just to see that the wire between both earphones is build in a way it have to break. I appears that Audio Technica build them like this on purpose so you have to buy new ones...
Well i bought a new, thicker wire for a couple of cents. Re-welded everything and using them for 3 more years now and they are still working
.